NEW DELHI: Prominent personalities from the field of Indo-Japanese relations, and career & soft skills development will be speaking on the topic "Career Development with a Foreign Language with a special reference to Japan" in the upcoming webinar organized by organised by a leading education Institute of North East India -Girijananda Chowdhury Institute of Pharmaceutical Science (GIPS) on July 30.
For sharing real-life experience on how the Japanese Language has helped in developing scores of careers, the managers from a leading conglomerate of Japan NEC Technologies India (NECTI) will also be participating in this webinar which is being supported by Jaceex Japanese Language Academies (JJLA).
According to Rajeev Gupta, the Founder, and CEO, Jaceex Ventures LLP the webinar would discuss how a foreign language and Japanese in particular can be great for the career development of the youth from different streams. "Jaceex -Guwahati is pleased to bring the first of our webinar series on Career Development with Foreign Language Skills as a Career Accelerator," Gupta added.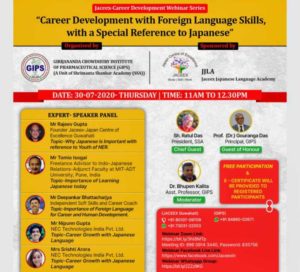 Some of the key speakers during the webinar would include Tomio Isogai, Freelance Advisors to Indo-Japanese Relations-Adjunct Faculty MIT-ADT University Pune, and his topic of the address will be 'Importance of Learning the Japanese Language'.
Rajeev Gupta, who also happens to be the Founder of JACEEX-Japan Centre of Excellence will speak on the topic 'Why Japanese is important with reference to the Youth of NER. Deepankar Bhattacharjya, Independent Soft Skill and Career Coach will speak on the topic 'Importance of Foreign languages for career and human development'.
Ratul Das, President SSA, and Prof (Dr) Gouranga Das, Principal, GIPS will be present during the webinar as Chief Guest and Guest of Honour respectively. Dr. Bhupend Kalita, Asst Professor, GIPA will moderate the session.
Nippun Gupta and Srishti Arora from NEC Technologies India will address the participants on the topic 'Career Growth and Japanese Language"
NEC Technologies India (NEC India) and Jaceex Ventures LLP which operates the Japan Center of Excellence (JACEEX) recently announced a partnership to launch a joint training program targeted at the youths of North East India.
Approximately 1000 participants are expected to benefit from this training program over the coming years which will expose them to the Japanese language, culture, and business practices.
Under this partnership, NEC will work as a knowledge partner through its language and intercultural training academy, NEC Japanese Language Academy (NJLA), and JACEEX will set up Jaceex Japanese Language Academies (JJLA) / centers in various cities of the North East, in support of this program. JACEEX currently operates one nodal academy in Guwahati-Assam. NEC India and JACEEX will also train students from different universities and colleges in the North East region.
According to the organisers those interested in the webinar "Career Development with a Foreign Language with a special reference to Japan" can register for free at: https://bit.ly/3ht8MTp (Meeting ID: 896 0914 3440 and Meeting Password: 835756). The registered participants would also be furnished with e-certificates.  Webinar Facebook Live Link: https://www.facebook.com/Jaceexin and Jaceex-Webinar Series Whats App Link: https://chat.whatsapp.com/Hun32O1ufABKjbWM9Bqo33
This content was originally published here.