[Long post alert!] This is my "Dear Diary" post as I reflect on my job search journey… 
I swear, is someone testing me as a Career Coach?! I haven't had to find a new job and interviewed in 5 years and now I have to start over? I'm kidding… you all probably know by now that I just completed my job search and found a job after 2 months of searching. With that said, I do realize how "lucky" I am since I see many people on LinkedIn posting that they've unfortunately haven't found a job after 8+ months. However, this "luck" doesn't come without lots of sleepless nights, grinding, persistence, and positivity. 
As a Career Coach and former Recruiter, I was fortunate enough to understand how the job search and recruiting process works. That took out a lot of what I needed to figure out in preparation for the job search and I'm here to share with you exactly what I did to get a job so fast. Taking it back a little bit, I lost my job in the beginning of September. I struggled with understanding why because not much information was shared with me and that influenced how I interviewed. We'll get to that in a little bit. 
First Things First  
As soon as I found out I lost my job: 
Let's be real, I definitely cried. Nothing like this has happened before and I never expected it would happen to me either. 
I immediately signed up for unemployment and health insurance. I mention this because these are things job seekers don't know that can help put your mind a little bit more at ease. 
I also set up a stricker budget to follow, knowing that I won't have income coming in while I'm unemployed, with the added expense of health insurance.
Reaching Out to my Network
During my first week, I reached out to everyone I knew. This included the Partners and coworkers I worked with at my former company, friends, family, and recruiters (that I honestly had ignored on LinkedIn…). I let everyone know that I had just lost my job and that I was looking for a new role – no shame at all. I tried to set up as many phone calls as I could with as many people that would talk to me whether it was to share my story or for an informational interview. These meetings actually filled up a good month with about 2-4 calls each day. What helped with all these meetings was: 
People knew I was job searching so they could refer me if they heard anything.
They also asked so many questions about why, what happened, what's next, what positions I was looking for, etc which helped me sort out a lot of my thoughts and helped me reflect on everything. 
Because so many people asked the same questions, it was what helped me become more confident and comfortable with upcoming interviews because interviewers asked similar questions! 
Once meetings with my personal connections started running out, I started reaching out to first connections (acquaintances) on LinkedIn. Anyone I thought would remember me and works for a company i'm interested in working at, I would reach out with a version of this template: 
Hi Scott, I hope you're doing well!! I'm reaching out to my connections because I am currently looking for a new position. I wanted to see if you or someone you know may be looking to fill roles in recruiting, learning & development, or program management? I am excited to explore new opportunities and appreciate any help or direction you could provide at this time. Thanks and I hope you have a great day!
I got a few meetings out of those. It was amazing how many people wanted to help or hear my story. Once my meetings with first connections started to die down, I reached out to second and third connections through LinkedIn or with introductions from my current network. I also knew I wanted to work in EdTech so I came up with a list of target companies and started reaching out to alumni and requesting them as a connection on LinkedIn in hopes to get them on the phone. Here's a version of my template: 
Hi Becky! I wanted to connect with a fellow Trojan b/c I'm interested in working at an e-learning company like Master Class. I have a background as a career counselor and campus recruiter. Would love my next career to be in the edu space. Please let me know if you'd be open to a convo. Fight on!
Not going to lie, reaching out to people on LinkedIn was a long shot, but I got a couple leads. It wasn't my biggest success because I realized that not everyone is super active on LinkedIn, let alone responded. I had the most success with more direct introductions from my network (a friend of a friend). However, I did push for it; At the end of every conversation, I would ask "Do you have anyone you can introduce me to at abc company or doing xyz role?". Being specific helped my connections identify exactly who they can introduce me to. My biggest tip was don't just let your friend give you the other person's contact information – make sure they do a formal introduction over email, text, or LinkedIn messaging. It helps with the response rate when it doesn't look like a cold outreach from someone they don't know. 
Applying for Jobs 
I didn't start looking or applying for jobs until a week after I lost my job and that's only after I figured out what I wanted to target: Recruiting Enablement, Learning & Development / Training, Career Success, Customer Success (sales). I was pretty strategic in the fact that I wanted to network my way to a job instead of applying to a million positions. 
I only applied to jobs and companies I was truly interested in working for. I didn't want to waste my time going through interviews if I knew I didn't really care from the start. 
I customized every resume and every cover letter. I had base templates of what I would use and tweaked the documents according to the job description. I felt like that extra effort helped, especially when I applied to a job I wasn't exactly qualified for, like a Customer Success role. 
With each job I applied for, I always went on LinkedIn afterwards to try and find a recruiter contact or someone I knew that worked at the company. I would send at least one person a message but most of the time, no one got back to me. I would say it's still worth the effort. 
With every application I sent in, I made sure to keep track of everything I applied to and the status of my candidacy on a spreadsheet. This helped me keep organized to see how many jobs I was applying for each week, which companies and positions I already applied for, and knowing what jobs I'm still being considered for.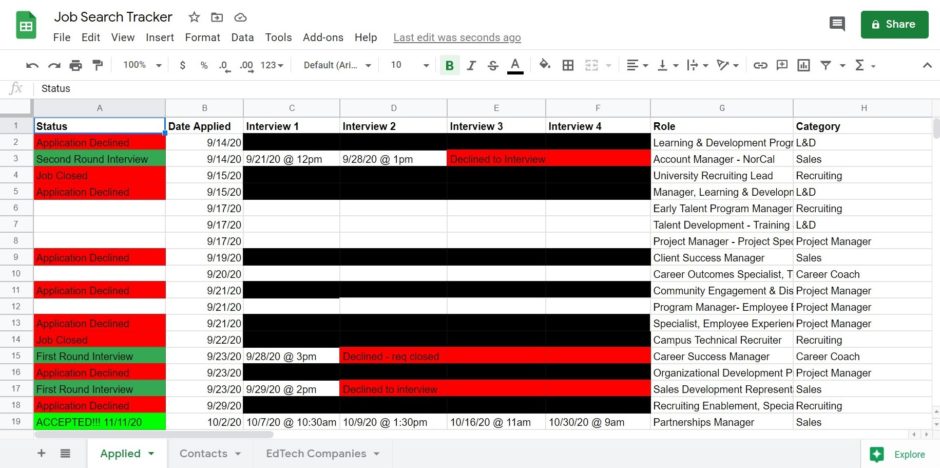 After applying and seeing which interviews I received, I started seeing a trend! As much as I wanted to break into the startup and tech world, it was hard when I didn't have that background. However, I saw a good compromise – coding bootcamps really liked me! As companies in the alternative education space, they loved my background and experience of career counseling, campus recruiting and working with college students which they wanted and needed! With this realization, I started doing more research into which companies were hiring in this space. 
Keeping Myself Sane
About a month after starting my job search, I was definitely getting defeated. I was always on LinkedIn and had my email open, impatiently waiting for someone to respond, message me or waiting for a new job to be posted! Most of what I was getting was application decline emails which was pretty frustrating. I didn't know many people who were also in the job search so I felt like I was constantly alone while everyone was working. As happy as I was for people who would be posting on LinkedIn that they've found a new job, I was jealous it wasn't me. 
Since we were still technically in quarantine, there was honestly not too much I could do. If it were a "normal" situation, I would definitely be travelling. But since I couldn't I tried the best I could do something. 
I went to the pool and beach (and actually got a pretty good tan!), hiked, treated myself to take out, did some career coaching (very relatable since I was in my own job search!), worked out, cooked, watched webinars, wrote blog posts to increase my visibility and brand, attended virtual networking events, had lunch/dinner with the fam, zoom catch up with friends, slept in and watched TV. As you can see, I did a mix of business and relaxing. 
On the weekends, I would take a break from the job search. I may have done little things here and there like prep for an interview, but took it off for the most part. That was really important because first of all, not many people work and check for applications on the weekend, and second, it really helped with my mental health. Taking a break helped me refresh and reset for the next week. Just because I was unemployed didn't mean I didn't deserve a break!
Looking back, what I really wished I had was a network of job seekers that can relate. I felt so alone in the process. Sometimes I wonder if it was just me getting all those rejections or if I'm doing certain things right like how to reach out to people. If you can find a community or find people who can support and encourage you in the job search process, I would highly recommend it! 
Interviewing
Preparing for interviews
My interviews started coming around the fourth week after sending in applications. Mind you, they were all video interviews since we were still in a pandemic! I do want to mention that the majority of my interviews did come from either connections or referrals, hence why I spent so much time doing informational interviews and outreach! There was a lot of preparation involved because I had not interviewed for over 5 years!! I prepared for each interview by tracking these on a spreadsheet for every company:
Company – what they do, values, any new/relevant news
Copy and paste the position description 
Do research on the interviewers (from LinkedIn)
Jot down previous experience compared to the position description – come up with related stories and situations to share 
Think of relevant questions to ask each interviewer (recruiter, hiring manager, CEO, etc)
This whole process took me at least 30-90 minutes
Before each video interview, I put on my "interview shirt" which yes, I wore the same shirt for every interview! If you're curious, I would usually be wearing pajamas pants or shorts underneath (our little secret, okay?). I would then make sure I logged on early to test my video and microphone. Once logged on, I would simply sit there until the interviewer showed up. It was important for me not to do anything while waiting for the interview to start like going on my phone. Instead, I looked over my interview notes and took a few deep breaths. Once the interviewer came on, I threw on a huge smile and greeted them. If it was a phone call, I had my airpods on ready to pick up the phone on the first couple of rings and would start off with "Hello, this is Stella" so they know right away they reached the right person. 
Answering the Questions
During my interviews, I had to address the hard question – why are you looking for a new job? I would say I lost my job and they tend to ask if it's Covid related which in my opinion, there's so many people in the same boat that they really shouldn't have to ask. However, I told them my former employer didn't share much about why they let me go, but I'm looking forward to my next opportunity since I've been a Campus Recruiter for 5 years at the same company. 
After the logistics, the first question is normally "Tell me about yourself". Rarely was it not asked so I got pretty good at answering it. I would say something like:
"Taking you back a little bit, I graduated with my Master's in Higher Education Counseling with the intention of working with college students. After graduation, I worked as a career counselor for a nonprofit, helping high achieving, underrepresented college students from South Central LA with resumes, mock interviews and connecting them to employers. I then moved on to become a Campus Recruiter at a public accounting firm doing full cycle recruiting. I will connect with schools to organize events, talk to students, set up interviews and give out offers. As you can see, I worked my way up to Manager where I oversaw the Campus Recruiting team and took part in strategic initiatives to move the Campus team forward. One thing I missed was being able to work with students directly. This is why I'm interested in a Career Services Manager role at ABC company." 
This intro was specifically catered towards roles that included working with college students, career counseling, or campus recruiting. You can tell it summarizes my career journey by sharing an overview, but not going into specific details or going off on a tangent. 
Another question that was commonly asked was "What are your salary requirements for this role?" That caught me off guard the first couple times because I was not used to talking about salary. But I did come with a salary range in mind and would turn the question back on them and ask "What is the salary range for this position?". I would then answer whether or not it was the range I had in mind. I did this because I didn't want to shoot for too high or too low and scare them so I tried to understand what they had in mind first. Was this the best approach? Maybe not, but it worked for me. I would suggest doing some research on salary ranges for that market. 
In the interview, I also made sure to share my story and past experiences using the STAR Method. I preach this to clients all the time and I still stand by using this formula in my own interviews! I did this by bringing in specific examples and stories to show I have experience in what they need. I also used the interview to determine if the role and/or company was a good fit for me. I wasn't trying to bounce around in my career so I used my time to vet them as well (hey, it's a 2 way street!). I actually ended up not moving forward in the interview process with a few companies because of the role, the pay, or the people that I would be working with. 
When it was time for questions, some of the questions I asked the interviewer were:
What are growth opportunities in this role / within the company?
What is the culture like? How has it changed since Covid?
How has Covid impacted your business and what have you xyz company done about it?
How is success measured? What did the previous person do that made them stand out?
I found it extremely important to ask questions because it helped me understand the company and role more. The information helped me decide if it was a good fit for me or not. So I spent as much time as I had left asking questions. Sometimes I would ask the same question to different people, and sometimes I would ask questions depending on what I wanted to follow up on during the interview. It was helpful to have jotted down a few questions, but also it helped that I could think of some on the spot as it relates to what we were talking about. 
Approach & After the Interview
After every interview, I almost immediately send them a customized thank you email. Even if I interviewed with 3 people that day, I sent them all a different message, mentioning something specific that we talked about in our interview. This showed that I was listening and reinforced what they were looking for. One of my emails looked like this: 
Hi Donald,
Thank you for taking the time to interview me today for the Career Services Manager position and for making it such a fun conversation! I loved hearing about your experience of being the "career counseling guy" and that's what led you to become so passionate about career services. Like I mentioned, I'm ultimately here to make an impact on our "kids" and help them find their dream jobs! 
I look forward to the potential of working with you and the CSM team at ABC Company. Please don't hesitate to reach out if you have any more questions.
Until then, have a great week!
Stella 
After sending a follow up email, I would also track all the questions the interviewers asked so I can come up with a better answer if needed for future interviews. I was used to doing it the other way around where I was the interviewer! However, my approach for interviews as a job seeker was to come off knowledgeable about the company, the role, and also be relatable. If I was prepared, I would come in with the confidence that I'm perfect for the job and be able to demonstrate that during the interview. I kept my tone casual yet professional, as if I was having a conversation with a friend and telling them about my past experiences. That helped me ease my nerves of being in an interview. My twin experienced a similar interview prep a few years ago. 
Follow up
There were times where I would interview and did not hear back after a week. By then, I usually followed up with an email like this:
Hi Adam,
I hope you had a great weekend! I wanted to follow up on my candidate status because I have a couple final round interviews this week and next with other companies. However, I'm still extremely interested in the Director of Career Outcomes position with ABC Company and wanted to see what the timeline is in interviewing for this position if you're interested in moving me forward. I already submitted my video interview last week. 
Please let me know if you need anything else from me and I appreciate any update.
Thank you!
Stella
Usually, this will put me back on the radar (if they forgot about me) or generate some kind of response – even if it was to decline me. At least I knew the status and can move on with other companies if needed. 
References
I was honestly surprised that companies still checked references. Some companies check them to confirm their thoughts on you and some companies check to compare the final candidates. A tip about references: they should always be someone who's going to talk about you in the best light. Yes, that does mean you can pick and choose who you have speak on behalf of you and yes, it is biased. But that's the reality of it! 
Luckily, when I reached out and had calls with several professionals at my old company, many of them offered to serve as a reference. I picked the 3 that knew me the best and sent them a heads up that someone was going to call them. I shared the role, company, and a little bit of what I would be doing so they can make any references if needed. Here's my email:
Hi McKenzie, 
Hope you're doing well! I'm being moved on to the last stages of a job interview that includes giving them references. I want to give you a heads up that I put you down as one of mine for a Partnerships Manager position at App Academy. 
To give you some context, App Academy is a coding bootcamp that teaches students how to code to get jobs as software engineers. I would be reaching out to companies to create partnerships (essentially doing BD) and connecting students with opportunities in SF and NY. Sounds a little like recruiting? haha.
I will put your email and cell phone number so you may be hearing from them shortly. P.S. I'm also wrapping up final interviews at another company called ABC for a XYZ Position. If I do get pushed through, a heads up that I will share your name for that one as well

Let me know if you have any questions and feel free to reach me on my cell at (123)456-7890. Thank you!
Stella
One of my references actually got back to me and shared that they felt like the manager was calling to get a reference on me and I was being compared to another candidate in the running. That was interesting information for me to know because it sounded like they were going to make a decision based on references. However, I knew mine were top notch so I wasn't too worried! 
I got the job! 
I was super excited when I got the offer at App Academy as a Partnerships Manager! In this role, I say that I recruit companies to recruit our software engineer students. This was a really good role in between having worked with students and having been on the employer side hiring. It was enough of a challenge because I have never done this role before but enough in my comfort zone to know that I have the skills to do the job! 
Before I accepted the position, I looked over the whole offer letter and made sure to ask any questions. Just because I got the offer didn't mean I had to take it. I had several phone calls with the recruiter to talk about benefits and also to negotiate my salary. I wanted to share this fact openly because I want to encourage other people to negotiate as well if they feel like they're not getting what they should. How I did this was I told them what I needed to feel comfortable, which was a conversation I had with the recruiter in the first interview when they shared the salary range. I also had a conversation with my (future) manager and they were generous enough to give me 45 minutes of their time to answer questions about the expectations of the role and how the bonus structure worked. 
During this time, I was close to getting another offer and I told the other company that I already had an offer out and needed to make a decision by a certain date. I had a good feeling I was going to get the job and the manager reached out to talk about salary and start date (an unofficial verbal offer I guess). However, I made up my mind and ended up accepting the position at App Academy because it was an exciting new role, the company was doing well despite being in a pandemic, I liked who I interviewed with and I liked the vision of the company and believed leadership would take it far. Those were all factors that played into why I accepted and I didn't take any of those lightly. I knew I was going to be here for a while so I needed to commit wisely. 
My Stats
I wanted to share my job search stats because I want to be transparent and show that not every interview leads to a job and not every interview leads to another one. 
Stats
Companies Applied
34
Breakdown
First rounds
9
26.47%
Declined at interview stage
2
5.88%
Declined to interview (me)
4
11.76%
Interviews through referrals
5
55.56%
Interviews through online app
3
33.33%
Interviews through recruiter
1
11.11%
Pending Offers
1
2.94%
Offers
1
2.94%
Categories Jobs Applied
37
Breakdown
Recruiting
9
24.32%
Career Coach
4
10.81%
Customer Success / Sales
14
37.84%
L&D
5
13.51%
Project Manager
5
13.51%
If We're Looking on the Bright Side…
The nice thing about being unemployed (if I'm going to be positive) was that I was ready to interview whenever because I had all the time. This helped me get a job faster because I was able to schedule interviews sooner and didn't have to work around a busy schedule. I took advantage of the time instead of dragging it on and delayed getting a job. I did this because I still had a lot of bills to pay which aren't cheap and to give me a peace of mind of having incoming income and insurance. 
People told me to enjoy my time off. Everyone knew how hard and how much I worked at my last job. Yes, it was a blessing in disguise and I did need the time to destress, but I still made sure to do a little bit every day for the job search. By the time I got a job, I honestly wasn't ready to go back to work! 
Things to Keep in Mind…
I wanted to share about my personal job search journey in hopes to relate with job seekers and share the ups and downs and the reality of the job search. Just because I was a previous recruiter did not mean the process was easy for me – it helped because I was familiar with the process so that was my advantage. The job search process can be fun but I know it's not always the most enjoyable and oftentimes frustrating. However, I'm not trying to sugar coat anything either. Here are some real things I want you to keep in mind: 
I had fears that made me anxious. As I was job searching, I always felt like I had this cloud over me that I wasn't going to find a job or fear that I would get to the final stages and get declined. Or better yet, how no one was simply going to call me back for a first round interview. I had a lot of fears in my head and I needed to remind myself that this takes time and I can't just find something because it's on someone else's timeline.
I got frustrated. There were many times I needed to step away from my computer because there weren't enough jobs to apply for, I was getting all rejection emails or I wasn't hearing back, or because I couldn't stare at my resume any longer! I reminded myself to take much needed breaks in order to clear my mind and get back in the right mindset. 
I was always applying. Even at the final stages of an interview, I was still applying. No job was guaranteed until I got the offer letter, and I didn't want to waste any time in case I didn't get the job. There should always be something in my pipeline until I got the job! 
It's competitive! Historically, finding a job has been pretty competitive but with a bunch of layoffs this year, it's even more so! I didn't let that scare me though; I know that everyone has a right fit somewhere. 
I applied for jobs I normally wouldn't. Because it was a competitive time, I did apply for jobs I normally wouldn't to widen my prospects. I actually got some interviews for sales roles – something that i've considered by never done! I'm not surprised, because there were a lot more sales roles than recruiter roles open. 
I looked at positions with a pay cut. As much as I wanted to make a certain amount or close to what I was making, I knew I may have to take a pay cut (within reason). That's something I could always work my way back up towards as long as I liked the job and company I was joining. 
Persistence was key. If I didn't have anything in the pipeline, it was my fault because I wasn't putting in effort or trying new ways of reaching out. This was my own journey and I knew that I had to put effort into it. Even with frustrations, I had to keep persisting because nothing was going to fall out of thin air! 
Last Thoughts
Through my job search, I've been overwhelmed with support! I never thought I would have to start over but through this journey, I was able to reconnect and catch up with friends and acquaintances. I also met new friends and connections along the way who were also extremely supportive. It was definitely the time I needed to pause, reflect, and start new. 
I can't stress enough how we need to practice interviews, customize templates, be persistent and stay positive in the job search process. Easier said than done, but it's really all in the mindset and actions. If you made it this far, thank you so much for reading and I hope I could help shed some light on my personal job search. If you're looking for more guidance, check out my website HERE or hit me up HERE for a career coaching session. Best of luck and I hope you find the #onethatsticks!
The post My Personal Job Search Journey appeared first on .
This content was originally published here.