The week between Christmas and New Year's is slow…so slow, you may have forgotten what day of the week it was. But now that we're in 2020, it's time to kick your job search into high gear!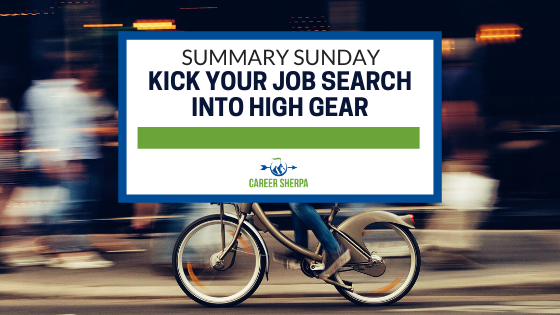 A slow end doesn't mean a slow start to the new year! Get started by taking actions that will boost your job search! By doing so, you can get ahead of the pack of other slow-moving job seekers.
This week's summary includes actionable tips to help with your job search and career:
Improve your LinkedIn headline using these examples
Use Reference USA to help you find a job
Refine your career goals using Ikigai
Build your personal brand with thought leadership
Here's what I want you to know and believe:
People are securing new jobs right now
Follow up with people. (You aren't annoying them, you are being persistent!)
Block time on your calendar every day with job search activities
Invest more time and have more conversations
LINKEDIN
It's Unanimous: the Top 10 LinkedIn Profile Headlines from Job-Search Experts | Things Career Related
TOOLS
How the Reference USA Database Will Help You Find a Job in 2021 | Avid Careerist
CAREER
Intertwining Ikigai and Career Coaching | Dorothy Dalton
THOUGHT LEADERSHIP
Career Intelligence – Annette Richmond
Put your job search into high gear starting this week!
Does your job search need some motiviation?
You'll get that when you join my "Motivation Monday Job Search Accountability Group" starting January 11th!
Register Today
The post Summary Sunday: Kick Your Job Search Into High Gear appeared first on Career Sherpa.
This content was originally published here.