The ever-evolving job search adapts to the labor market, workplace trends and technology. This means you need to adjust what actions you take accordingly.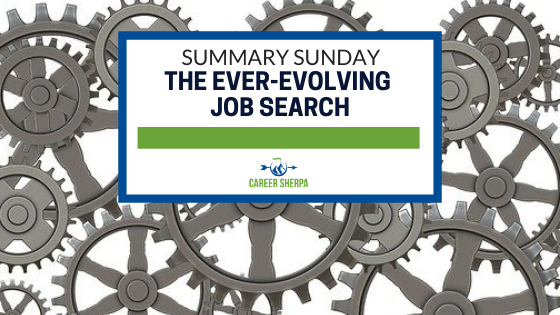 While the pandemic still wreaks havoc on companies, jobs and people, there are those that are optimistic about changing jobs or careers in 2021.
Yet, sadly for leisure and hospitality businesses (travel, tourism and restaurants) we are far from seeing a major uptick in business. The bright news is that many companies have found ways to adapt and some, like real estate, e-commerce and logistics have been growing.
This all means that for some, changing careers will be mandatory and for others with technology skills or in booming industries, there are opportunities to change jobs.
You will find competition for jobs which means you'll need to do more to ensure your qualifications stand out. Your resume and LinkedIn profile are important but so is your online reputation. Can someone find you or someone with skills like yours if they search online?
If you have been looking for a job, now is a really good time to evaluate what you are doing and if it's not getting you the results you want, change it up.
Do you have a strong resume and LinkedIn profile?
Do you customize your cover letter for every job you apply to?
Do you follow up after you apply to every job and after every interview?
Do you attempt to find someone who works inside the company before applying?
Do you spend more time having conversations with people in your industry than applying online?
Do you practice out loud for upcoming job interviews?
Are you pursuing companies YOU would like to work for?
Do you follow a weekly schedule to manage your time?
In This Week's Summary
This week's summary of ever-evolving job search includes:
100 articles for those ready to change careers (or jobs)
Tips for working with 3rd party recruiters
Why your resume is probably getting read
Tips for getting your resume through the ATS
How to maximize your personal brand using SEO
---
CHANGING CAREERS
100 Days on Jobs for Career Changers | FlexJobs
---
JOB SEARCH
5 Keys to Successfully Working with Recruiters During Your Coronavirus Pandemic Job Search | Job-Hunt.org
RESUMES
Why Job Recruiters are Taking the Time to Read Every Resume | New York Post
---
ATS
#GetHired with Amanda Augustine | LinkedIn
Here how applicant tracking systems work and how to get your resume past these resume sorting robots.
PERSONAL BRANDING
How to Improve Your Personal SEO: 5 Tips for Personal Branding within Search Results | Orbit Media
DID YOU SEE THIS
MENTIONS
The Power List of the Top 200 Thought Leaders to Follow in 2021 | PeopleHum
The post Summary Sunday: The Ever-Evolving Job Search appeared first on Career Sherpa.
This content was originally published here.